Restaurant Security Camera Systems
Many restaurants install IP video surveillance systems to keep track of patrons and staff. These form an important part of their business security systems.
This insight into what is happening within the restaurant gives the restaurant owner and/or managers the ability to monitor what's happening at any given time. In instances where a criminal act occurs, IP video surveillance footage can be used by investigators to track down and identify those who were involved.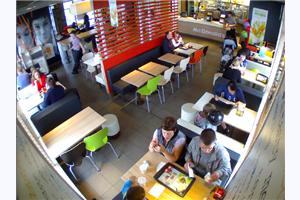 Video surveillance using IP cameras provides other benefits as well.  They can be used to monitor employees to ensure they are maintaining proper business practices such as storing food appropriately and of course monitoring entries and exist and cash registers. By monitoring their staff, a restaurant owner can reduce food, utensils and cash theft, which unfortunately often occurs when video surveillance is not in place.
Network IP Camera Video Implementation
The use of network IP cameras in restaurants is becoming much more prevalent as the prices for these systems are starting to come down and internet bandwidth is improving.
The IP cameras are now much smaller and less obtrusive, but are much more powerful than a single camera-to-monitor installation. These video surveillance systems are also relatively easy to install, but by using a professional surveillance system installer like Brisbane Alarm Monitoring Security Services you will get better results as they know how to hide wiring and set-up the network properly.
A network of IP cameras sends the video footage to a web server, so the recordings can be transferred over a network; either locally or via the web. This set-up allows for remote monitoring by management/owners from their own home or office.  Any computer with internet access can view the camera's footage, which means you can check your surveillance feeds no matter if you're in the restaurant, at home or even on holiday.
A network IP camera video surveillance system can also be set-up to turn on or off based on motion detection. You can program the system to turn lights or appliances on or off based on the occurrence of specific events. Advanced video analytic software such as object recognition can make surveillance software aware of even minor changes in the environment which might otherwise go unnoticed, and alert you or the proper authorities.
You can also use the "Voice of God" technology which allows you to speak, via installed speakers, to anyone who is breaking in or in the process of stealing cash or food and warn them that you are watching them and the authorities are on the way.
Installing a Network Camera Video Surveillance System
The first this to consider when installing a video surveillance system is the type of cameras you will use. Even within the world of network IP cameras there are many options to consider, based upon your restaurants specific needs. Because restaurants vary so much in size, lighting etc, one camera doe snow fir every need.  Discussing these options with a professional IP camera installer like will help you understand which is the best system for you and your budget.
The placement of IP cameras is very important for any video surveillance system.
One of the most crucial areas to monitor is the cash register.  This is where all the business transactions occur, so this is where you could expect any criminal activity to take place. A video camera placed at the entrance will also allow you to view everyone who enters and a camera on the back door monitors anyone who leaves the restaurant.  And a large portion of "shrinkage" is caused by food going out the back door as staff exit after their shifts.
Two other places you might consider installing IP cameras are in the dining area and the kitchen area. A camera in the dining area allows you to monitor activity there, so if someone chokes, falls or gets sick, you can provide assistance straight away, plus cover your liabilities by having the events recorded.
An IP camera in the kitchen keeps staff under surveillance while on the job to ensure that they are acting in accordance with your rules and regulations related to food preparation.  Using a video IP camera security system can save you money, improve customer service and help you manage staff more easily and effectively.
Benefits of IP Cameras for Restaurants
Why Use IP surveillance cameras in restaurants?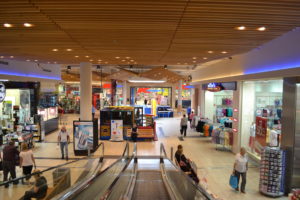 Your customer's dining experience begins even before he enters the restaurant.
The observations made by a customer from the moment he parked his car to the time he left the place can contribute to his future decision whether to dine in your restaurant again or not. This decision is greatly affected by the type of service you gave him during his brief visit.
Instances where IP cameras can help you improve your customer service.
Parking Space Security. By having IP video cameras for restaurants installed outside your establishment, you can give your customers a peace of mind. They won't need to worry whether their cars will be stolen or damaged. Food will taste better if your mind is not troubled.
Secured Dining Area. We all want to feel secured. Having Megapixel IP cameras for restaurants installed in strategic places inside can give your customer a sense of security. They know that if an accident or a crime happens, everything will be recorded. Potential criminals will also think twice before committing a crime in your restaurant.
You can also use the recorded video of the IP cameras to determine the real owners of items that are accidentally left behind. It'll be a lot easier to release a lost item if you know who the real owner is. It would be a disaster if you give the item to the wrong person.
Small misunderstandings and accidents can be easily resolved if you have IP video cameras that have recorded what happened. No fights will ever occur in your restaurant letting your customers enjoy their meals peacefully.
A Regular Customer Profile. A Customer Relationship Management (CRM) database can be easily created if you know the name, the face, and the orders of your customers. You'll amaze your customers if you can suggest meals that they enjoyed in the past. With the help of Megapixel IP cameras for restaurants and friendly waiters and waitresses, you'll get all the information that you need to build a customer profile.
You can also use these profiles to evaluate your marketing strategy and your product offer. A business can only survive if you have timely information and you know how to use these pieces of information to your advantage. IP cameras for restaurants can help you collect different useful information.
You should always satisfy your customers or else you'll have to close your business. Excellent customer service + good atmosphere + delicious meals = $$$$$$$$$ and more. Finding the best IP cameras for restaurants is the first step towards your success.
Brisbane Alarm Monitoring Security Services provides IP camera installation, CCTV Cameras and commercial alarm monitoring as well as a wide range of business security solutions in Brisbane, the Sunshine Coast, Gold Coast, Logan, Redlands and Brisbane Bayside.