Internal & External Intercoms
A well-designed intercom system is one of the smartest ways to communicate with your family and your visitors. Master intercom stations can be positioned in any area of your home. You will gain the ability to greet your guests and give remote entry with the simple press of a button.
Internal Intercom
If you have a large home, an intercom system is very convenient. Intercom units are typically installed in the main living areas and all bedrooms.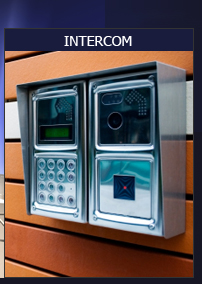 The intercom system allows you to select any number of units to connect to at the same time. Therefore, you can have a 'private' chat to a child in one bedroom, or you can announce to the whole house that dinner is being served.
With BAMSS Service, you also have the option of installing an intercom system that allows you to record messages to play back at a specified time.
With a video and audio intercom system, you will have the ability to monitor your children's activities when they are not with you, even when they're playing outside. This provides you with instant peace of mind about the safety of your children at any given time.
With BAMSS, even the most simple of our audio intercoms come with the choice of a range of chimes and bells with the ability to change tone over time.
External Intercom
We strongly recommend that when installing an intercom in your home, that you also install an external intercom at the entrance of your property.
A gate intercom will provide you with good security and peace of mind.
With intercoms installed throughout the house and at your front gate, you can quickly reply to a message from a guest. You can open the gate remotely and grant visitors access with the simple press of a button from any of the units inside your home.
When installing an external intercom, we recommend that you select an audio and video unit. This will allow you to  see who is at your gate—ensuring that only those you choose are given access to your home.
Intercoms in Brisbane & Gold Coast with BAMSS
BAMSS Services can provide you with a tailor-made solution for your communication needs—from a simple audio intercom system to a completely integrated video and recording system—so contact Brisbane Alarm Monitoring Security Services today!