IP Surveillance technology gives you so much more than just a security camera.
The 'smart cameras' that are now readily available and affordable have the potential to gather business intelligence that could help change your business and protect your assets in new and different ways. You can monitor any place at any time.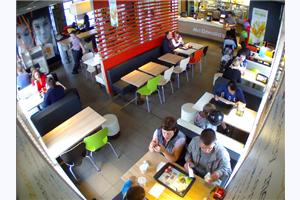 Give your business the edge over your competition by thinking about how the information that a camera captures could be used.
IP surveillance is the latest and best form of surveillance technology available. IP surveillance is replacing the traditional CCTV security cameras, and it provides so many more benefits and features to help protect your business. It also helps ensure the effective performance of your business.
IP surveillance is no longer simply a security system, it's much more than that.
With IP surveillance you have:
an excellent security system
the ability to gather business intelligence.
IP surveillance is incredibly popular due to the extra features this type of technology provides, and also because the systems are readily available and affordable.
With IP surveillance you can gather information to help improve your business as well as protect you assets in new and different ways.  This form of technology allows you to monitor any place at any time—even remotely.
Examples of how IP Surveillance Helps Business Owners
The following 3 examples illustrate the varied and fantastic capabilities of this new technology, allowing businesses to increase profitability and reduce costs, as well as providing your business with an edge over the competition.
The owner of a high-end restaurant wanted to keep an eye on the quality of presentation of the food being served. He installed IP cameras over the food delivery table, and from his iPad he can check the presentation to ensure quality for his clients.
A small-business owner wanted to check what activity happened while the store was closed. He installed IP cameras so he could keep an eye on how many people passed and approached the store. This allowed him to adjust his opening hours accordingly.
A large mine site installed IP cameras at the entrance of a restricted area that has a strict dress code. This assisted them with providing concrete evidence to the insurance company that all staff were entering the area in the correct safety protection equipment. This, in turn, gave the mine a reduction in their insurance premium.
Special Introductory IP Surveillance Camera Package
At BAMSS, we have a special introductory IP surveillance camera package, which includes:
4 cameras
a digital video recorder
remote software
complete installation
training.
And all this from as little as $4,500 (excluding GST).
When you consider the multiple functions provided by such a system, you can be assured that the system will pay for itself over and over again.
IP Surveillance with BAMSS
BAMS Services can help both small and large business no matter what your surveillance and security needs. As mentioned above, we offer a really affordable IP surveillance system package which includes the installation and training. This is ideal for small business owners.
BAMS Services has also assisted business and shopping centres with more complex systems that require expertise in design and integration. Requirements for theses larger systems are varied and require tailor-made systems.
BAMSS can provide the perfect solution to fit your small, medium or large business, so contact Brisbane Alarm Monitoring Security Services (BAMSS) today!