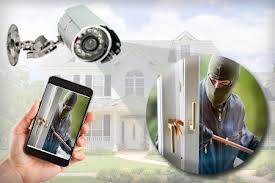 So if you are planning to build or buy a home, or if you already have a home, it is a wise step to install home security systems around your home to ensure that you, your family, and your property will be safe and secured, because even Brisbane and the surrounding areas are not exempt from thefts and criminals.
Here are Six ways to secure your home
IP cameras or CCTV
Internet protocol (IP) cameras are one of the ways wherein you can keep your home secured.  What makes this different from analogue closed circuit television is that this has the capability of sending and receiving data through the Internet.
This is usually installed for surveillance purposes. This is a great help in keeping your home secured, especially when you and your family are away for a period.
With CCTV you can hook up your TV, computer or smart phone to the camera so you can see what is happening at all times.
Alarm monitoring
Alarm monitoring on the other hand can also help guard your home. There are different types of alarm monitoring system, and the only thing you have to do is to choose the best alarm monitoring system for your home.
There are security companies that offer alarm monitoring systems like Brisbane Alarm Monitoring Security Services (BAMSS).  Contact us today to learn more about how we can help you secure and monitor your home using smart security solutions.
Home Automation
Provides extra security for you and your family as you can control things like door locking, turning off appliances and turning on or off lights. It can also save you money by being able to remotely turn on and off heating, cooling and lighting.
Exterior alarms and Alarm Systems
As the name suggests, exterior alarms are usually installed outside your home to help keep your property safe. These alarms are used to monitor everything that is going on outside your house. You can install exterior alarms on every corner of your house to ensure that all the perimeters are covered.
Exterior alarms are also a way of driving burglars and thefts away. The only thing you have to make sure is that these alarms are properly functioning to avoid disturbing the neighbours. Also, faulty alarms are a way for security people not to believe you anymore.
Door and window sensors give off their alarm whenever an intruder tries to pass through a door or window that is equipped with a sensor. Once the sensors are activated, it will automatically give off an alarm once someone from the outside would try to open it.
This kind of sensor is especially useful at night, when everyone is sleeping.
Intercoms
Intercoms allow you to control who is able to come onto your property. This could be at a gate for a big property or just at the front or back door.
Let BAMSS use our years of professional experience to help you design the best security option for you including IP Surveillance, CCTV Cameras, Alarm monitoring and Security alarms for your home and business premises in Brisbane and surrounding areas, so contact us today on 1300 722 279